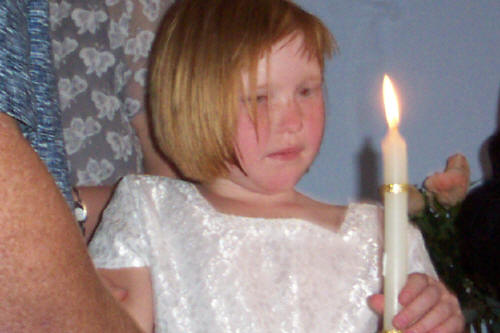 Melody was born two weeks after her due date on Saturday, May 10th, 1997 at Sharp Mary Birch. She had beautiful porcelain skin and fuzzy strawberry blonde hair. She was a very calm baby and slept through the night the night she was born. She met all of her milestones either on time or early. Melody walked at 10 Ĺ months. She potty trained right around her second birthday, once she figured out she couldnít stand facing the toilet and pee like her brother Devin. She was a very happy baby.
Melody has always absolutely loved being a girl (or geel as she used to say it). The clothes, shoes, dress-up, jewelry, make-up, nail polish and everything pretty. When Devin started losing his baby teeth Melody was concerned that when she started losing teeth and the Tooth Fairy came to visit her, she would use her wand and change her into a boy. Once when she was about 2 years old, she happily entertained herself for half the day trying on all of her outfits while everyone else in the family was down with the stomach flu. Her room looked like a tornado had gone through it and there was nothing left in her dresser!
When Melody started preschool in 1999, she had a hard time at first but soon grew to love it. It is a Christian preschool. She loved all of her teachers. She learned so much! She learned her colors, shapes, alphabet, numbers and could also write her name at 3 Ĺ. She also learned about God. She used to love Wednesdays because it was chapel day.
I just told Melody I was writing about her time in preschool. She wants me add that one day, she fell off the monkey bars and got 10 stitches in her chin. To this day she still speaks fondly of her preschool and its teachers, and will proudly show off her stitches (we have them in a jar) to anybody who wants to see them.
In August 2002 Melody started kindergarten. She loved it. She already knew her teacher, Mrs. Cascarini, through her cousin Allison who had been in Mrs. Cascariniís class the year before. We thought she may be afraid on her first day but after awhile of us following her around and taking pictures, she told us to go. Melody was a big girl and didnít want her old mom and dad hanging around and embarrassing her. She made a lot of friends right away and came home one day and told us she had a boyfriend. The next day she told us she dumped him. She had a great year and was ready to be a big first grader.
When Melody started first grade, she transferred to a brand new school just around the corner from home. Harmony Elementary had just opened and all the students and teachers were very excited, including Melody. Melody loved her teacher, Mrs. Benson and her classmates. She is a smart girl and did well. She likes to do homework. She said that she didnít like that she didnít get homework in kindergarten. Everything was great for her until she got sick.
Here are just a few of Melodyís favorite things. Melody likes pink, purple, feathery frilly things, Barbie, Brat dolls, nail polishes, Jewelry, board games, card games, arts and crafts, fuzzy posters to color, Stuffed animals, Sponge Bob, Jimmy Nutron, any of the many princesses, and her most favorite of all Hello Kitty.
Some of Melody's favorite snacks are Ė bananas, funyuns, and sugar free candies. Her pets are Mr. Fuzzy (Orange Tabby), Twinkle Toes (older Calico) and Jetta (German Shepard) who was named by Melody. And Bruce (German Shepard) that she also named.