MARY KAY Special
Please help Rob raise the money needed for his walk, I will give the Schleigh family 25% of each Mary Kay sale that you purchase from me, and I will ship right to you for free. Everyone always has a need for Beauty Products like the New
Timewise Microdermabrasion set->>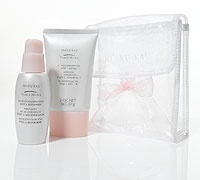 <<-or one of the Private Spa Collections.
Embrace Harmony (blue)
Combines bamboo, cypress and marine extracts to soothe the senses.

Embrace Happiness (yellow)
A refreshing blend of lemon, jasmine and guarana

Embrace Today (yellow)
A fresh, crisp blend of freesia, citrus, jasmine and bergamot.

Embrace Dream (pink)
A calming floral scent of bamboo, decaffeinated red tea and sandalwood

Embrace Romance (lilac Limited Edition)
Treat yourself to this delicate, floral oriental fragrance.

For all scents:
Body Wash $12
Moisture Lotion $12
Sheer fragrance Mist $18

Melody enjoyed items like this, so this is a perfect tribute to her. You can go look at all the products at www.marykay.com or if you would like drop me an email and I will send you a catalog. Please lets all chip in and help Rob reach the goal he promised "Our Melody" he would. You can email me at Marnipf@aol.com, with your order, or a request for a catalog.

Thank you!!